Firefighter in crash on Blanding suspended for not disclosing previous DUI arrest | News
Title (Max 100 Characters)
Firefighter in crash on Blanding suspended for not disclosing previous DUI arrest
CLAY COUNTY, Fla. — A firefighter has been suspended following an investigation by the Clay County Fire Rescue Monday that unearthed he did not disclose a 2015 DUI arrest to county officials, the agency said.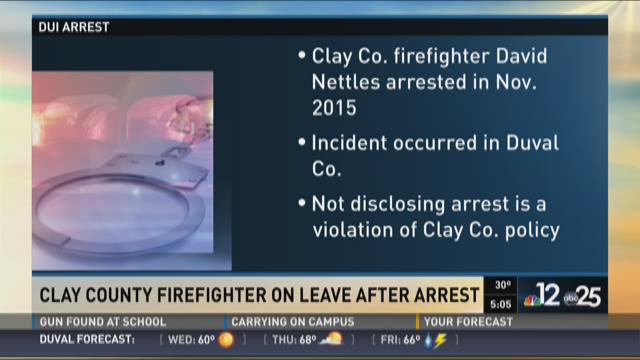 David A. Nettles has been placed on administrative leave following the investigation into an unrelated Jan. 15 crash on Blanding Boulevard when the fire engine Nettles was driving was struck by a vehicle that reportedly ignored the emergency lights on his vehicle.
Two people in the car were injured in the wreck, Florida Highway Patrol reports.
Nettles was never breathalyzed by troopers, Master Sgt. Dylan Bryan told First Coast News. "There was not (sic) any indicators or signs of impairment on Mr. Nettles to warrant proceeding further," Bryan said via e-mail, adding that crash investigators followed standard procedure.
Nettles was arrested in Duval County and charged with driving under the influence of alcohol or chemical substance last November, court records show. He was off-duty at the time, but not disclosing the arrest to the Clay County Public Safety Department is a violation of the county's policies, according to Lorin L. Mock, a Clay County fire chief.
"The county takes very seriously allegations of such misconduct by its employees, and Engineer Nettles has been placed on Administrative Leave pending the outcome of an investigation into his failure to notify the county of his arrest," Mock said in an email to First Coast News.
Nettles has been employed for a couple years, Mock said. The agency does annual background checks on its employees.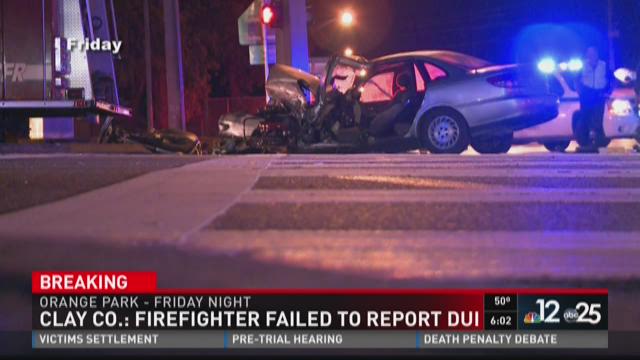 According to a criminal complaint filed in Duval County, Nettles refused to submit to a breath, blood or urine test at the time of the traffic stop on Nov. 11. The stop occurred at 1:47 a.m.
Nettles was also going 76 mph in a 45-mph zone on Atlantic Boulevard, according to a JSO traffic citation. 
His next court appearance on the DUI charge is slated for Feb. 2, court records show. 
Preliminary reports indicated that the emergency sirens were on and working at the time of the wreck at the corner of Blanding and Kingsley Avenue, authorities said.
This story continues to develop. Stay with First Coast News for updates.